Alaknanda River Expeditions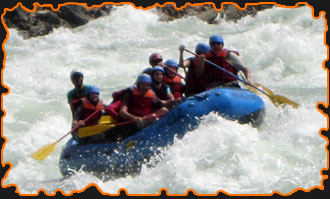 Alaknanda is one of the few great frontiers rivers in the world . Rafting down this superb river is the only way to truly appreciate its beauty. It is acknowledged as one of the most spectacular and yet easy to raft river trips around, attracting adventurers from all over.... The opportunity of an expedition-style trip, rather than merely 'thrills and spills' makes this the ultimate wilderness experience. At times on the trip, like all great expeditions, there will be times when patience is required. However, you will be one of the privileged few to have experienced this wilderness area. This is certainly a wilderness experience rather than the kind of rafting you might encounter on a one-day rafting trip. Levels can vary from more exciting levels often earlier in the season to more sedate levels late in the season.
Alaknanda River Expeditions Itinerary
Day 01 : Raft from Bagwan to Byash Ghat
Pickup from Haridwar / Rishikesh and drive to Bagwan and Raft down to Byash Ghat . After breakfast we set off on our first day on the river, negotiating exciting Grade 3 rapids and stopping on a beach on the way for our lunch. After lunch we raft further down to the holy village of Devprayag at the confluence of the Alaknanda and Bhagirathi rivers, the point where the name Ganga is first used, before continuing on down to Byas Ghat where we set up camp for the night. Dinner and overnight in expedition tents on twin share basis
Day 02 : Raft from Byash Ghat to Byasi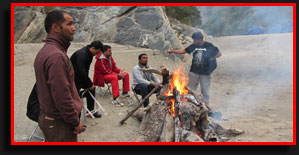 . Today's rafting is good exercise for the paddlers as the water flows calmly and there are few rapids.There is some beautiful scenery to take in, including wildlife such as elephants, barhal, langoors and if you are lucky, even the elusive spotted leopard. The Ganga flows through a small gorge which is only reachable by raft.
. The action starts from Kaudiyala, where you will start by hitting the Daniel's Dip and end the day on a high by going through the massive Wall. Dinner and overnight in expedition tents on twin share basis
Day 03 : Raft from Byasi to NIM Beach
. Start rafting after breakfast and hit a series of rapids like the Cash Flow, Black Money, Three Blind Mice, Cross Fire and Return to Sender.
. We arrive in time for an early lunch at the Beach camp before getting back on the river for the final section of whitewater, and exciting 2 hour stretch hitting rapids like the Golf Course and the Roller Coaster with a break for cliff jumping.
Expeditions End Here.