Rafting Expeditions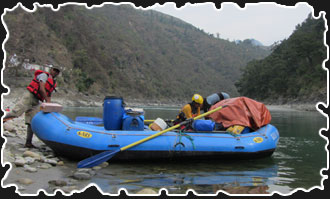 You can opt for one day or weekend water rafting adventure tour on some of the best white water rivers present in India.
There are several professional tour operators in India who organize camps along the popular white water rivers of India.
They offer customized river rafting rafting expedition packages that include personalized services from experienced life guards as well as renting of safety gear and other rafting equipments.
Go for a reputed adventure tour operator so that you can completely enjoy a unique river rafting expedition in India
Alaknanda River Expeditions

Alaknanda is one of the few great frontiers rivers in the world . Rafting down this superb river is the only way to truly appreciate its beauty. It is acknowledged as one of the most spectacular and yet easy to raft river trips around, attracting adventurers from all over.... The opportunity of an expedition-style trip, rather than merely 'thrills and spills' makes this the ultimate wilderness experience. At times on the trip, like all great expeditions....

Read More

Mahakali River Expedition

This is a rafting expedition on Sharda river (also called Kali Sharda), which forms a natural border between India and Nepal. The trip is largely disconnected from roads and civilization, as the river enters a wide gorge from Pancheshwar, and flows through the Terai jungles. Camp sites are heavenly on isolated remote beaches.The region is rich in flora and fauna, and one can easily sight a wide variety of rare birds and wildlife. Throughout the trip.....

Read More

Tons River Expedition

Garhwal, the part of Uttrakhand that borders Himachal Pradesh is the home of the river Tons. Rising from the Bandarpunchh Mountain range at 20,720 ft., the river is the biggest Yamuna tributary and is believed to have more water than the Yamuna itself. The Tons river expedition provides you the thrill of running a river that have grade 3-4 and even some grade 5 rapids. It is considered to be one of the most challenging white water rivers to run in.....

Read More